Do not simply think that instant noodles are only the food to fight against hunger at the end of the month or when the mother is away from home. There are many eateries in Hanoi becomes famous for the simple instant noodles.
There are two methods of cooking instant noodles: the first method is making noodles with broth; the second method is stir-frying noodles or mixing them with sauces, which has a strong flavor. Either way, it cannot be denied the miraculous transformation of the little noodle block to the attractively delicious dish after cooking.
Instant noodles with lemon and beef jerky – the miraculous food of the youth of the capital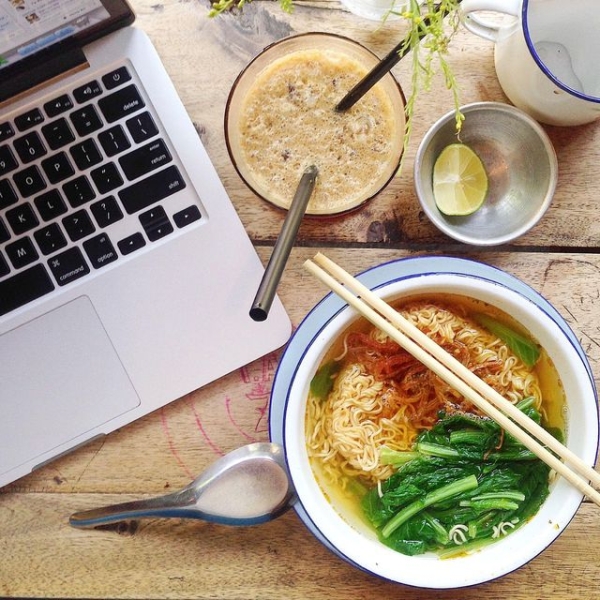 Instant noodles with lemon flavor and beef jerky is not a sophisticated dish to cook. It is only a very popular way of eating instant noodles among the youth, especially the students in the city.
Between the stressful classes, a block of noodles and a little boiling water is enough for hungry stomachs. The school canteens do not have diverse condiments, so students think of the perfect combination of instant noodles, lemon, and beef jerky.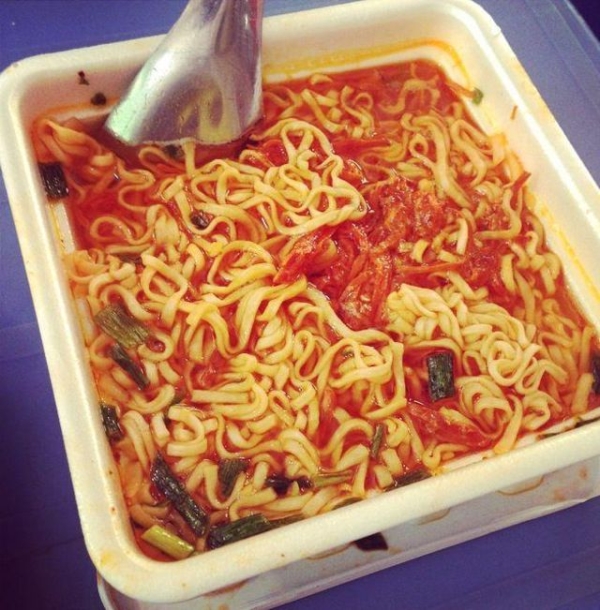 Lemon-flavored noodles at No. 4C Dang Van Ngu street (Photo: Lozi)
Beef jerky is the favorite snack of students. When eating instant noodles, some student mischievously put a little beef jerky into the bowl and the tasty dish was invented.
The spicy beef jerky dipping in the lemon-flavored noodles creates a soft and sweet taste which harmonizes with the sour spices and buttery and springy noodles. It is just that simple but so attractive.
Instant noodles with pig heart and kidney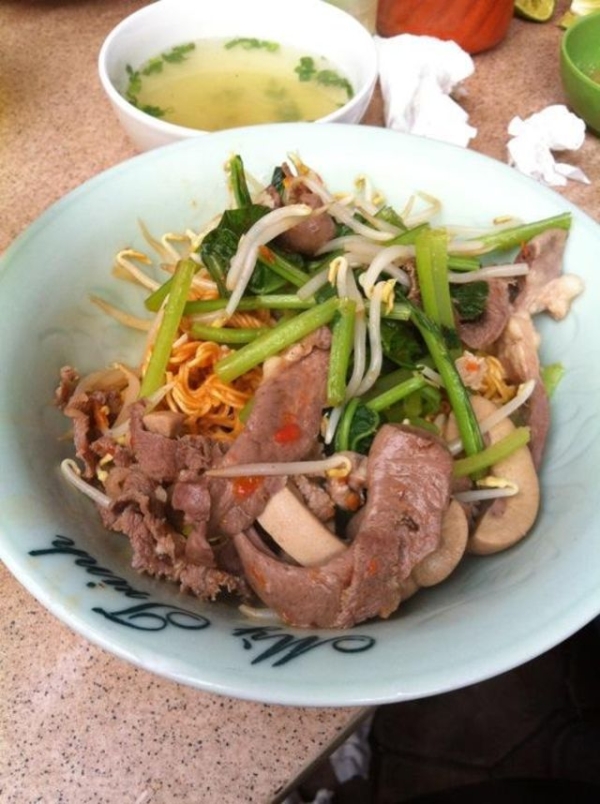 Instant noodles with pig heart and kidney is the favorite dish of the eatery which is famous for exclusively selling "instant noodles" in an alley on Hang Bot Street. Instant noodles with pig heart and kidney have two variations: stir-fried noodles and soup noodles, which are both highly rated for the price and quality. Although instant noodles are used, the owner carefully selects the type of noodles which are springy and have bright golden color. Pig heart and kidney are fresh and plenty for each bowl.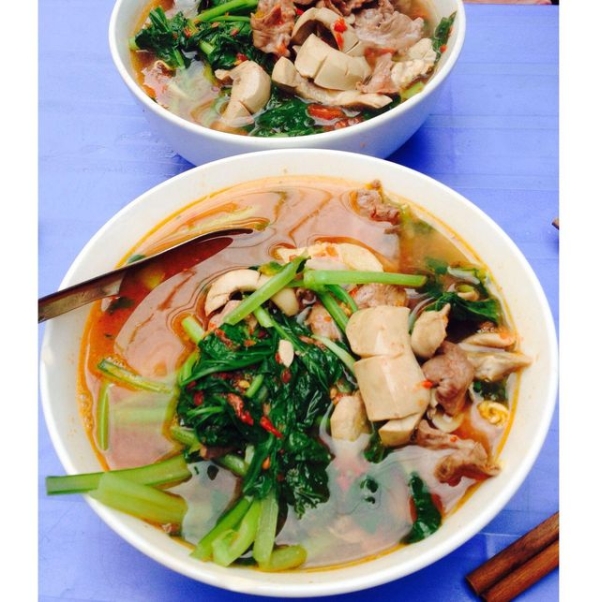 Instant noodles with pig heart (Ảnh: Lozi)
However, the most attractive thing of the eatery is the broth which is sweet and fat, not the taste of monosodium glutamate. Therefore, you will still feel the savoriness of meat in the last spoon of soup.
Stir-fried instant noodles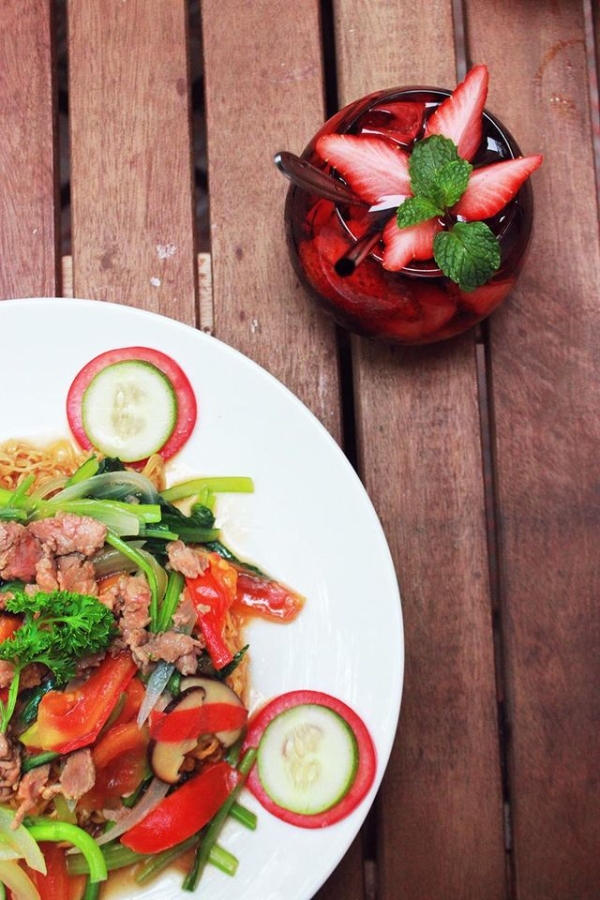 Stir-fried instant noodles with beef at No. 46B Quan Su (Photo: Lozi)
Stir-fried noodles probably the most familiar variation of instant noodles to many people. In every Pho restaurant in Hanoi, you can order stir-fried noodles. The ingredients of stir-fried noodles are not much different from stir-fried Pho.
The block of noodles is quickly dipped into boiling water first. Then, the cook will add cooking oil, salt, soy sauce, onion, leek, different types of meats, and quickly stir-fry them over big fire until the ingredients are mixed together to form a flavorful and attractive combination.
Crispy stir-fried instant noodles served with pig heart on Tho Nhuom street (Photo: MASK)
If normal pho restaurants serve stir-fried noodles with beef, there is a restaurant on Tho Nhuom Street which serve the delicious stir-fried instant noodles with pig heart. It is the combination of golden buttery noodles and the sweetness of beef and heart that is so familiar to everyone.
Stewed sweet herbal chicken noodles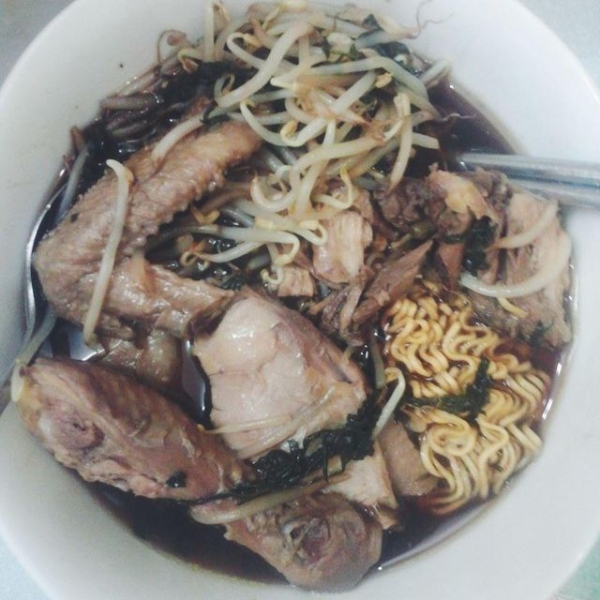 Stewed sweet herbal chicken noodles on Luong Van Can street (Photo: Lozi)
As for Hanoians, very few people do not know the reputation of the noodle shop at the corner of the crossroad between Hang Bo and Luong Van Can streets. It is just a tiny cramped shop on the sidewalk, but it has been here for around twenty years and it is as famous as its "development history".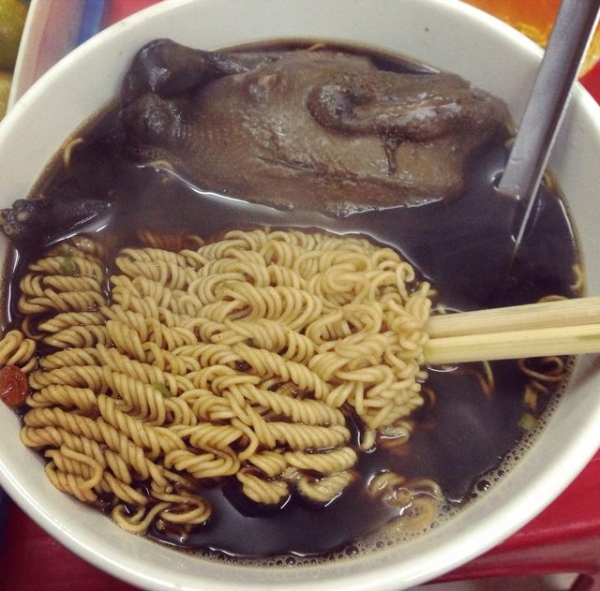 Stewed sweet herbal chicken noodles at No. 12C Hang Cot Street (Photo: Lozi)
The combination between stewed sweet herbal chicken soup and instant noodles is unique which creates a dish that worth eating. It is very simple to make this dish, just stewed sweet herbal chicken soup with boiled instant noodles and some bean sprouts. Looking at the hot bowl of noodles filled the attractive smell of mugwort and buttery stewed chicken, probably no hungry stomach can restrain.
According to K.H (Vntinnhanh.vn)