In Ho Chi Minh City, 23 March 2018, Acecook Vietnam was honored to rank 9th in the Top best places to work in the Consumer Goods sector (FMCG Food & Non-food) and rank 27th in the Top 100 best places to work in Vietnam, according to a survey of more than 62,000 people working in more than 600 companies.

The survey was independently conducted with strict procedure from in-depth interviews, qualitative survey to quantitative survey to obtain the most objective comments. Survey contents were developed by Anphabe's employer brand experts and the survey procedure was consulted and supervised by the leading market research company – Intage Vietnam.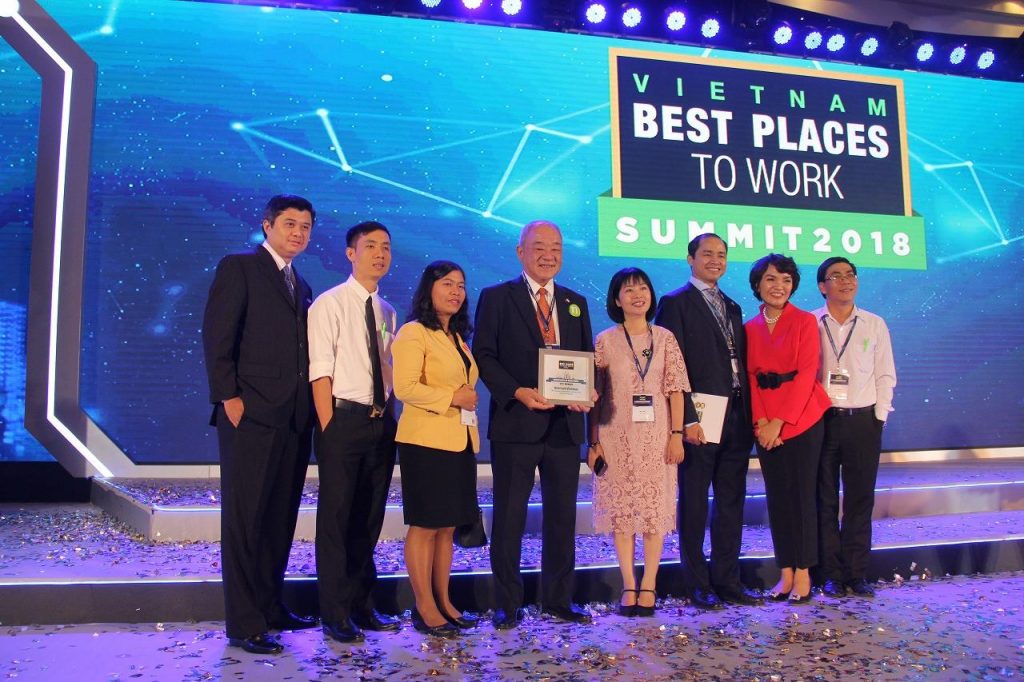 In addition, in another independent survey of the Top 100 Favorite Employers 2017 conducted by CareerBuilder – the world's largest employment & recruitment network, Acecook Vietnam was also officially honored to rank 19th in this survey, up 34 places compared to 2016. Furthermore, Acecook Vietnam continued to reach the Top 7 most favorite employers in the Fast-moving consumer goods sector 2017.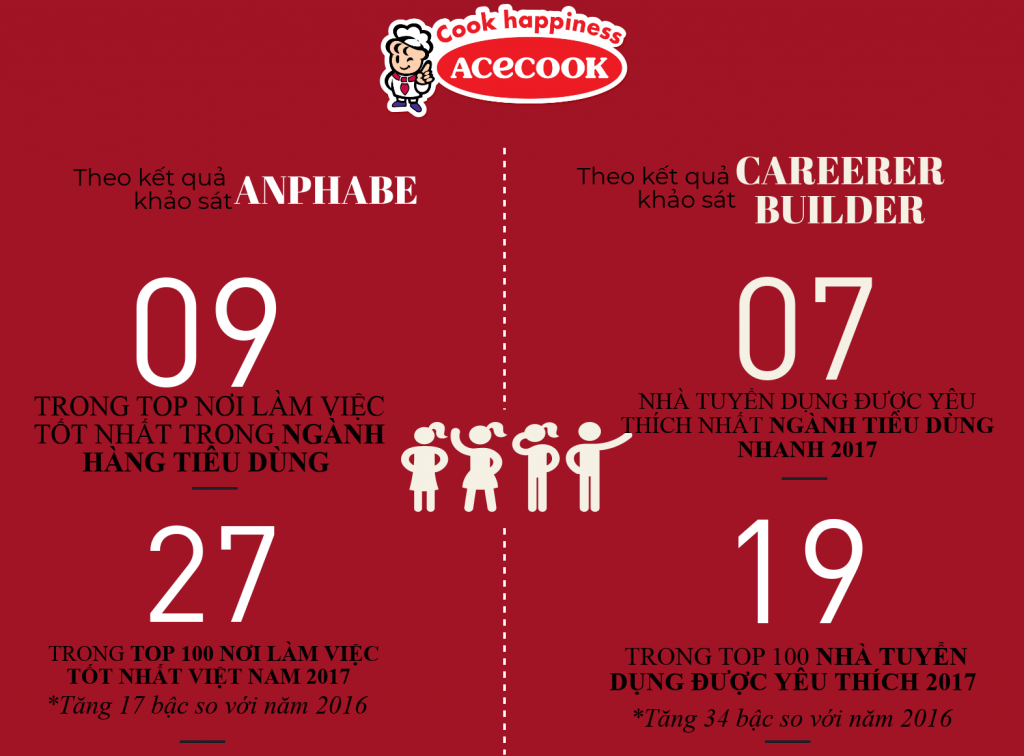 Sharing on these results, said Mr. Kajiwara Junichi – General Director: "Acecook Vietnam is a happy company as striving to build a team of happy employees, who work with outstanding performance. These results are valuable recognition of the community and employees to our Company's continuous efforts. From that point, the Company also would like to express sincere thanks to our employees for their support, commitment and dedication to the company. In the coming time, the company will strive to have our employees be happier."
In order to have happy working enviroment, Acecook Vietnam always creates favorable conditions for all employees to feel assured to contribute, to work with their passion, to proud as producing good, safe and delicious products for consumers. Accordingly, employees enjoy best working environment through emulation programs, worthy reward and welfare regimes for always. Especially, Acecook always spends a large amount to invest in domestic and overseas training for potential employees, organizing professional training courses for all employees, training to raise awareness to maintain a good governance system … This is also one of 3H (Happy) business philosophy that Acecook Vietnam pursues: happiness for consumers (and for partners), happiness for employees (and their families) and happiness for the society.
About Acecook Vietnam brand:
Member of Japan Acecook Group.
Established since 1993 and started production and business since 1995, treasuring more than 20 years of experience, Acecook Vietnam has been growing steadily, earning the trust of consumers and becoming the leading instant noodles manufacturer in Vietnam.
– Gain customer's satisfaction, fun and peace of mind through convenient products with delicious quality, food safety based on combination of "Japanese technology and Vietnamese flavors".
– Focus on building sustainable human resources by creating a favorable working environment and good welfare for employees, hence to have them be assured to work and devote for long-term contributions.
– Commit to comply with the law, ensure food safety and environmentally friendly standards.
– Actively improve the quality of life, create greater fun for everyone and contribute to social development.
3H (Happy) Goal of Acecook Vietnam
– HAPPY Consumers
– HAPPY Employees
– HAPPY Society
Currently, Acecook Vietnam offers a wide range of product such as instant noodles, instant rice fibers, instant vermicelli, cooked vermicelli, rice vermicelli fibers, cooked pho, etc. in order to meet the needs of consumers. Accordingly, Acecook Vietnam also exports products to over 46 countries in the world, including USA, Japan, Australia, Canada, Germany, France, Korea, etc. which are famous for rigorous food safety standards.
Especially, as a subsidiary of Acecook Group, Acecook Vietnam has been completely transferred the production technology of Japanese instant noodles to make products according to Japanese standards, ensuring the criteria on quality, food safety and hygiene.
– Brand name: ACECOOK VIETNAM
– Logo:  

– Slogan: Cook happiness

For more information, please contact us:
Ms. Tran Thi Bich Van – Head of PR
Acecook Vietnam Joint Stock Company
Email: vanbt.hcm@acecookvietnam.com  
Phone number: 0163.8098.280  – (028) 38154064 (1208)