The frying process has a lot of prejudice. Actually, the modern process is not as your thinkining
Here are four facts about ingredient and the meaning of the instant noodle process
Frying help to preserve noodle in 5-6 months
Microorganism is the factor which make food cannot be preserve for a long time. They can live in the enviroment which has 3 favors: water, nutrion and atmosphere. If one of these factors is missed, the growth will be inhibited.
Among those, water is the most easily removed factor. In the production process, the noodle is steamed by heat to become ripe, at this time the average water content is about 30% -40%. Therefore, to reduce moisture in the fibre, manufacturer uses the frying method.
At this step, the process of "mutual substitution" between water and oil occurs in the noodle. It menas that when water comes out, the oil will replace. After frying, noodle will have a moisture content about 2%. With this humidity the microorganism cannot grow, giving an average preservation time of 5 months at room temperature.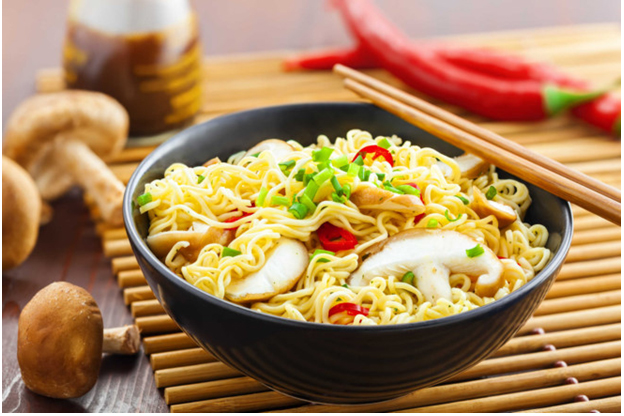 Auctomatic system
In the production process at Vietnamese companies, noodle is fried in a modern system – no need direct heating. In detail, the oil is heated indirectly by steam outside (similar to steaming method), then is entered to the frying pan by hermetic pipe.
By installing clocks, experts can control and maintain oil temperature inside the pan stablely and automatically supplement new oil. Especially, the oil used to fry noodle is vegetable oil in solid form.
This material is produced by natural filtration technology by indirect cooling method with cold water. This method minimizes the generation of transfat (not good fatty substance) in oil and help finished frying noodle does not have transfat .
The frying oil is always new
There is an opinion that istant noodle use fried oil again for the next frying turn. In fact, one turn of noodle (in 2 minutes 30 seconds) will diminish a certain amount of oil. In detail, in order to fry one noodle bunch, it takes 11 grams of oil. Therefore, the system automatically replenishes same amount of diminished oil for a regular progression.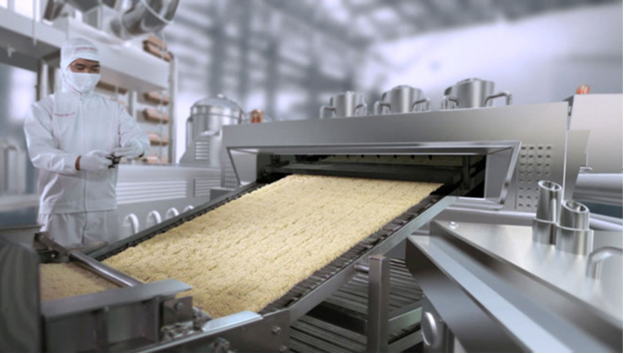 The oxidation index of the oil is strictly controlled
Evaluating the level of oxidation is based on Acid Value (AV). If oil is oxidized strongly, the AV index will be very high and cause bad smell.
Codex Alimentarius Commission and the Vietnamese Standard have issued a regulation: the permitted AV level for frying products is £ 2 mg KOH per gram of oil. The manufacturer must always check and evaluate regularly to ensure the AV index in fried oil as well as product meets this standard.
At instant noodle manufactoring company such as Acecook Vietnam, thanks to the application of modern technology, using new oil and strict control, product always has very low AV (AV = <1 Mg KOH/gram oil).
Consequently, instant noodle always has delicious taste without bad smell as well as the transfat content in product ranges from 0.01-0.04g/serving, be equivalent to the "zero trans" announcement in accordance with FDA regulation.
According to Giang Hoang Nhon (zing.vn)