PRESS RELEASE
Acecook Vietnam in the Top 10 Enterprises with the happiest employees 2021
And Top 15 Best places to work in Vietnam
Ho Chi Minh City, December 22, 2021, as announced by Anphabe, Acecook Vietnam Joint Stock Company was honored to be included in the list of Outstanding Enterprises with the Happiest Employees in 2021 and ranked 11th in the Top 100 Best Places to Work in Vietnam (2 ranks higher than 2020) and 6th in the Consumer Goods sector (food & non-food).
Ever since Acecook Vietnam set its first foothold in the Vietnamese market in 1995, with the steady increase of its workforce up to 6,000 employees, the Company has always seen human resources as a key factor and strived to create an ideal working environment for every member to feel inclusive. Despite hailing from Japan, Acecook Vietnam has worked to overcome the cultural differences to create an ideal, tight-knit, professional working environment through learning, absorbing, gleaning, combining, and promoting the quintessence of the Vietnamese – Japanese cultures based on the 3H (Happy) management motto: Happy Consumers, Happy Employees, Happy Society.
This year was truly a tumultuous year due to the prolonged Covid-19 pandemic, causing disruption in human resources management for both production and business operations. In the face of such hardship, the company has introduced a work-flexibility mode for employees to adapt to each stage of production and made sure that products could reach Vietnamese citizens.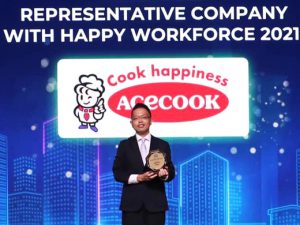 2021 was a year of turbulence due to the long-term effects of the Covid-19 pandemic in Vietnam and around the globe. Besides difficulties from the impacts on society, supply chain, transportation, etc. the disruption in human resources also posed great challenges for businesses. At Acecook Vietnam, the Company still kept in place its pre-Covid policies with no cut down on staff, full payment of salaries, bonuses, and benefits. During four peak months of the pandemic, so that the "3 in one spot" model (eat, work, rest in one location) could be implemented for more than 2,900 employees, Management of the Company has communicated effectively with the staff about the role and mission of each member to produce essential food for every citizen during the pandemic, such was how the company fulfilled its social responsibility. All the while, the company also promptly set up good welfare regimes, salary, bonus policies to help the "3 in one spot" employees feel secure in their job, enforced pandemic prevention and control measures, and complied with the 5K message to push through the worst times and resume business under the "new normal".
Mr. Kajiwara Junichi, General Director of Acecook Vietnam Joint Stock Company said: We have created a "3P" environment: Pleasure: company meets the basic bread and butter, salary, welfare needs, etc. of employees; Passion: employees have a working environment that satisfies their passion and career goals; Purpose: helps employees find purpose and meaning in life through work. Since the human factors are very crucial to our company, we invest a lot in professional training so that employees can realize their potential, and we also organize professional classes, raise awareness to maintain good corporate governance. For that reason, Acecook Vietnam has consistently made its presence known in the Top Best Places to Work in Vietnam. Such outstanding result was made possible by the dedicated and professional staff who have devoted themselves to the company.
For more information, please contact:
Mr Nguyen Huu Tuong Quan – PR Specialist
PR Department – Acecook Vietnam Joint Stock Company
Email quan.tn@acecookvietnam.com
Phone: 0918190207 – 028 38154064 (1208)