As a food processing company, what Acecook Vietnam could do the straightforward way to the community in its corporate social responsibility (CSR) programs, needless to say, is to donate its products to the poor. It is doing this, but in an in-depth manner to create long-lasting benefits for society.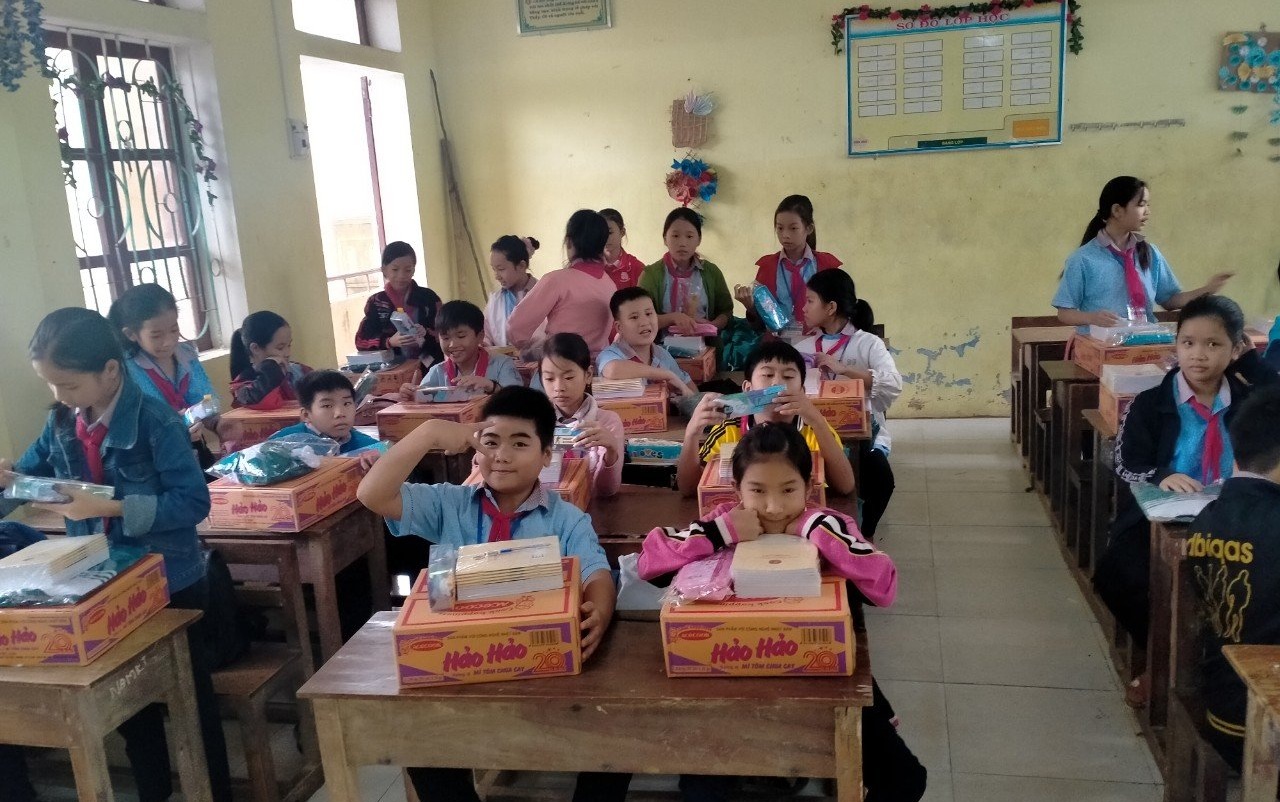 Happy packet of noodles
Since 2019, Acecook Vietnam has launched a project it calls "Happy Packet of Noodles" in collaboration with the National Fund for Vietnamese Children under the Ministry of Labor, Invalids and Social Affairs, targeting underprivileged children, especially those belonging to ethnic minority groups and staying at child care centers nationwide. The company has made donations in kind and in cash, including its products to improve nutrition for children.
On May 9, 2022, the company donated its instant noodle and vermicelli worth nearly VND200 million to children at boarding and semi-boarding schools in Quang Ninh Province. Most of the beneficiaries were ethnic minority children, and those with difficult family brackgrounds, especially children from upland areas.
Similar activities under the project have been conducted in various localities, including Quang Tri and Hoa Binh.
Last year, Acecook Vietnam spent VND2.5 billion on the project via the National Fund for Vietnamese Children. This project is being further expanded this year, and an executive from the company said the aim is to reach out to 30,000 underprivileged children in 54 provinces across the country, with a total budget of VND9 billion.
Besides donations being its products, Acecook Vietnam has regularly provided other necessities like sweaters, bicycles, learning equipment, other gifts, and especially scholarships for students. In 2021, the company gave VND430 million worth of these gifts to poor students in the northern upland provinces of Dien Bien and Lai Chau. And last month, in collaboration with the children's fund, Acecook Vietnam awarded 30 scholarships worth VND1 million each to poor students at Linh Truong Elementary School in Quang Tri Province's Gio Linh District, plus 100 sets of learning equipment worth VND500,000 each to the ethnic minority students there.
"We will continue to expand and upscale the project in the coming time," said the company's representative.
As a food processor, Acecook Vietnam also attends to nutritional values for the community. The company has cooperated with the Vietnam Disaster Management Authority to conduct research on nutrition for the people in calamity-prone areas, with the perception that food for such people during critical times like flooding is an issue of utmost concern.
Most recently, between May 13 and August 5, 2022, under the sponsorship of Acecook Vietnam, the Vietnam Disaster Management Authority in conjunction with the National Institute of Nutrition conducted a survey on food supply in five central provinces namely Quang Binh, Thua Thien-Hue, Quang Nam, Quang Ngai and Binh Dinh. The survey was aimed to gather information on the stockpiling and use of food by local residents upon natural disasters, providing the input for a plan to ensure nutrition for the calamity-prone communities.
In addition, several seminars are also being organized to discuss nutritional issues for poor people vulnerable to natural calamities.
Acecook Vietnam says it provides VND630 million for the research this year, while funding for next year's activity is expected at VND1 billion. The research project will wrap up in 2023.
Other social activities
Since 2020, Acecook Vietnam has teamed up with Bac Cau Foundation to translate Japanese pictorial books for children into Vietnamese, and presented these books to many children's hospitals and schools, and organized book-reading events at over 20 hospitals nationwide for children. The cost for this program amounted to VND210 million.
The company says that it will continue collaboration with Bac Cau Foundation next year to organize a children's reading week with an estimated cost of VND300 million.
It is noted that Acecook Vietnam was also a generous donor while the country was being devastated by the Covid-19 pandemic.
When the pandemic wreaked havoc on the economy in 2020, the company donated VND15 billion to the Fatherland Front of HCMC to acquire medical equipment for hospitals in the city, and 1,500 cartons of instant noodles to help poor people affected by Covid-19. In the same year, the company donated VND5 billion to supply clean water for the people in the Mekong Delta who were suffering from drought and salinity intrusion.
The following year, the company presented three air filter systems worth VND2 billion to Pham Ngoc Thach Hospital for Covid-19 treatment, and 20,000 cartons of instant noodles to field hospitals to support front-line workers and patients affected by the pandemic.
Commenting on its CSR programs, an Acecook leader said such community activities are integrated into the company's annual business plans, but it would spend more in case of natural calamities to support affected localities.
"An enterprise can only develop alongside the development of society, which means enterprises must align their business with the development of society," said the leader. This awareness explains why the company has managed not only to support poor people with its own products, but also to create long-term benefits for the community.
"What we always think is how to make our CSR programs beneficial for the community in the long term," said the leader.
Source:  https://english.thesaigontimes.vn/acecook-vietnam-giving-bigger-fish-to-the-hungry/