Questions related to instant noodles – Part 1 – Soup packet is safe
Source AloBacsi.com (Free health consultation information gate)
On March 23rd afternoon, the doctor from "joy medical" – Luong Le Hoang spent 2 hours giving direct consultation and discussion with AloBacsi's readers on questions regarding the instant noodle pack.
ONLINE EXCHANGE CONTENT
– Ha Hoang Phuong Nhi – Da Tuong Street, Da Lat, Lam Dong Province
Dear Doctor, what are the ingredients inside the instant noodle soup package? And if used frequently, could these chemicals affect our health? These days the press has been saying that eating too much MSG can affect the health. Please tell me if there is MSG in that soup package and if yes, would these substances affect the consumers' memory? Many thanks.
Doctor Luong Le Hoang:
Dear Phuong Nhi,
To ensure the taste and digestion excitement, instant noodles must go with the soup packet including MSG, seasoning powder, dried spices… with the content and ratio as set by the manufacturer.
For manufacturers with world-wide reputation and century-long history like Acecook, the consumers should not worry as the content of the soup package is compliant to strict regulations of food and additive safety.
Sources that mentioned about eating too much MSG are obviously not wrong because even raw water, if used incorrectly, can lead to diseases, not only MSG. However, is has to be too much to cause any bad effects. With near-zero amount of MSG in the instant noodle pack, how can it cause any diseases, except for the unreasonable case that the consumer doesn't eat anything else but 5-7 noodle packs per day?!
Eating instant noodles cannot do any harm if apart from instant noodles, the "eater" does have a balanced diet and lifestyle. The reasonable amount of MSG in the instant noodle pack can even leverage the reasoning function for mind workers. MSG at exaggerated amount can only harm people who suffer from metabolic disorder, such as people with diabetes, increased blood fat, obese…
– Hoang Le Ai Phuong – aiphuong…@gmail.com
I saw my older sister remove the oil packet every time she eats instant noodles. When I asked, she said that the oil packet contains only toxins which are bad for the health. Please tell me if she did the correct thing. Thank you very much.
Doctor Luong Le Hoang:
Hello Ai Phuong,
Your sister's viewpoint of instant noodle oil package is completely wrong. First of all, the oil packet is kept separately as it cannot be preserved together with the ingredients in the soup package, partially depending on the diners' eating style. Next, instant noodles offer special taste thanks to the oil package. After all and most importantly, the oil package helps to balance the sugar, lipid and protein content of the instant noodle pack.
If the oil packet contains only toxic substances, do manufacturers wish to lose their brand? If the oil packet contains only toxic substances, meaning that it doesn't comply with food safety regulation, how could they reach the consumers then? If you remove the oil packet, you had better give up on instant noodles as well.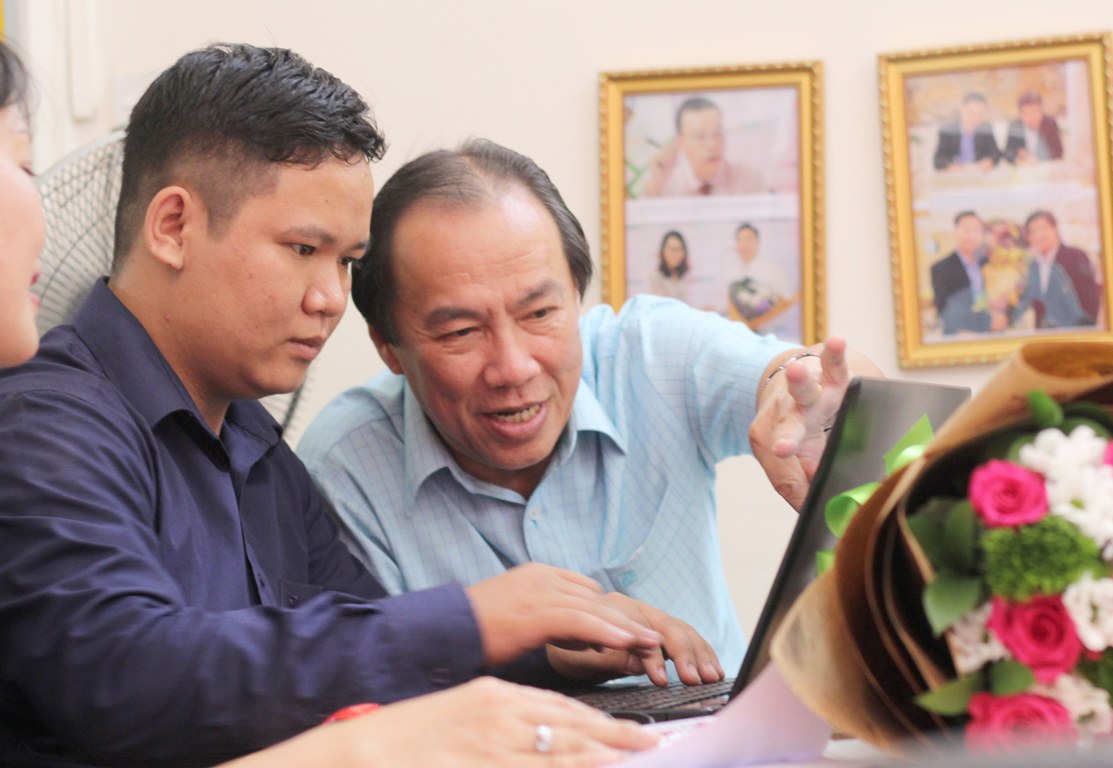 – Le Chi – lechi…@gmail.com
My family usually take instant noodles for breakfast, but everyone has bland appetite so they only put one oil and one soup packages for two packs of noodle. My mother doesn't want to waste so she keeps all the soup and oil packages to make other soups or stir-fried food. Should we do that, Doctor? I feel the food is normal when she doesn't use the instant noodle soup package.
Doctor Luong Le Hoang:
It is not wrong to keep the oil and the soup package to cook other food. It is the same when we use one soup packet for two packs of noodle. If you feel tasty, please continue. Don't forget that appetite is one of the important factors for sharpening your resistance. Because of that, we have two word "tasty safe" in profound Vietnamese figuration, meaning that good taste must be put together with, or even before safety.
 – Langturungxanh…@gmail.com
Hao Hao handy noodles have very tasty dried vegetable. The corn is very sweet. But the chicken doesn't really taste like chicken. I wonder, is the meat in instant noodles real or not? Or "only for illustration purpose"?
Doctor Luong Le Hoang:
A decade ago, the part called "meat" in instant noodle packs was fake. Nowadays, meat is "real" thanks to advanced technology. However, though remarkably improved in quality, the meat in instant noodles still cannot compare with real meat. Life is boring without variation. Why don't you add some slices of beef flank, tendon then taste your "product"?
– Tran Phuong Nhi – Tran Phu, Da Lat, Lam Dong Province
My older daughter is turning 18 this year. She has a diet with full nutrition, meat, fish, vegetable, fruits and milk. However, she has a hobby of using the soup package in the instant noodle pack for dipping her fruits (even though we have separate dipping salt but she doesn't like it).
Doctor, would using instant noodle soup package to dip fruits like mango, guava, ambarella, plum be beneficial for the health?
Doctor Luong Le Hoang:
Whether the food is good depends on many other factors. But two things are for sure. First, using soup package for fruit dipping is not harmful. Next, it is truly tasty if the fruits have sour flavor, fruits that make us salivate, like large mango, guava, ambarella… in the summer noon. The soup can be used for dipping without worries as it is manufactured with safety. We should worry more about the fruits, did they grow with plant protection agents or not, did they get "make-up" by chemicals to have such shiny color?
– Nhat Vy – 16 years old, Nguyen Thi Minh Khai High school, HCM City
Every time I ate instant noodles, my mother usually told me to throw that small seasoning package. My mother said that eating that one would make me fatter, get hyperlipidemia, but I feel that the noodle is no longer tasty without that small yellow seasoning package.
What kind of ingredients are there in that seasoning packet, Doctor? Can I eat that? I'm 16 years old, little overweighed at 62kg, 1.64m high. Please reply me regarding that small seasoning packet. Thank you very much.
Doctor Luong Le Hoang:
Hello,
The ingredients in instant noodle do less to your weight gain than your lack of activity, your prolonged time spent in front of computer, TV…  The soup packet has been researched and manufactured with advanced technology, therefore cannot affect the body weight.
The noodle fiber, no matter how tasty it is, will lose 7 or 8 in 10 portions of taste if the soup package is not used. You should send this information to your mother so the most delicious part of the food is not wasted. Instant noodles are nothing without the soup packet!
Health Consultation Information Gate – AloBacsi.vn
Source: http://alobacsi.com/hoat-dong-cua-chung-toi/bs-luong-le-hoang-bac-si-cua-y-khoa-vui-ve-giao-luu-truc-tuyen-tu-van-cung-ban-doc-alobacsi-a201703271108181c833.htm