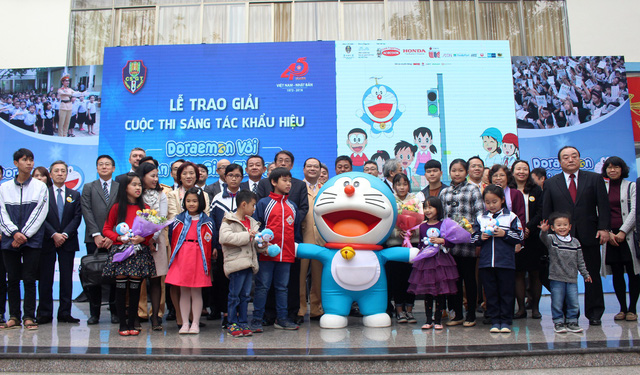 In the morning of 18th January, in Doan Thi Diem Primary School (Hanoi), Ministry of Public Security in collaboration with Ministry of Education and Training and Mainichi Newspaper Group – Japan to give award for students participating in slogan creation competition "Doraemon with traffic safety" in Vietnam in 2017.
This year is the second year of "Doraemon with traffic safety" slogan competition. After nearly two months, the competition has attracted 104,966 slogans, four times more than the year 2016.
Each slogan in the completion will be the positive thought contributing to building a common transport culture in the community. The steering committee has selected and voted for 20 excellent slogans.
Slogan "Take the right road, give up the right way, no need to rush, happy to go to school" of Tran Thanh Van – 4A3 Grade, Doan Thi Diem Primary School – selected to print propaganda posters in 2017-2018 school year.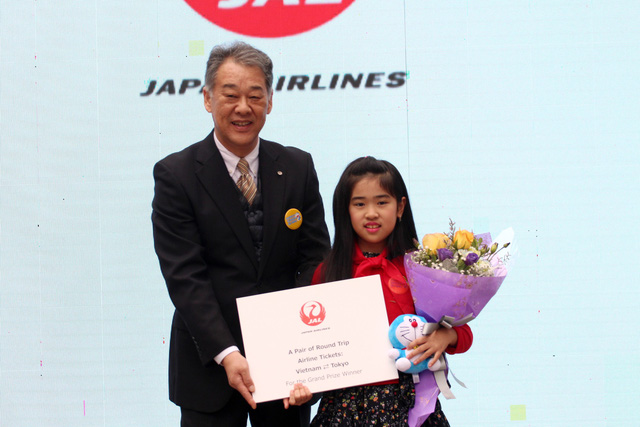 Speaking at the award ceremony, Japanese Ambassador, Kunio Umeda said that traffic safety in Vietnam now is not good and safe. According to statistic in 2017, more than 8,000 people died in traffic accidents compared to 3,700 people in Japan.
According to Mr. Kuino Umeda, Japan had a period of traffic accidents with over 16,000 people died per year in the past.
With "Doraemon with traffic safety" program of Manichi Newspaper, Japanese police and the whole society contribute on decreasing to ¼ deaths.
Mr. Kunio Umeda shared "This year is the second year, the program is held in Vietnam, as well as one of main activities of the 45th anniversary of the establishment of Vietnam – Japan diplomatic relation, we hope that this program will be annually held to become a great movement through Vietnam, contributing to the traffic safety of Vietnam, especially for young children to be happy and safe when going to school".